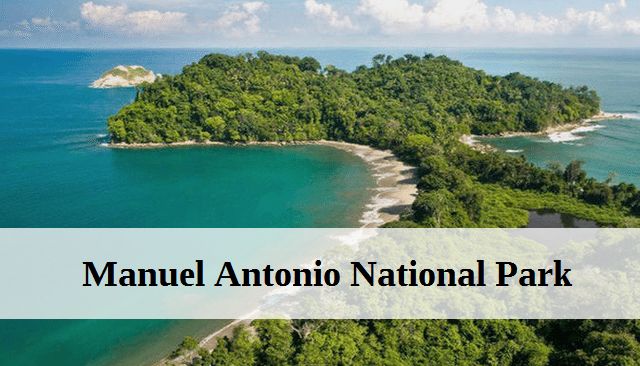 The Republic of Costa Rica is situated in Central America and bordered by the Pacific Ocean on the west, Nicaragua on the north, Panama on the southeast border and Ecuador south of Cocos Island. This rugged country with abundant rainforests and coastlines on both the Pacific and Caribbean oceans is known for its volcanoes, biodiversity, and white sandy beaches. The capital of Costa Rica is San Jose which is home to the famous Pre-Columbian Gold Museum. Almost a quarter of the country is protected jungle area teeming with wildlife, notably quetzal birds and spider monkeys. Costa Rica has a population of roughly 4.9 million living in an area of almost 51,000 square miles.
The Manuel Antonio National Park in Costa Rica is an expansive coastal rain forested nature reserve that is rich in wildlife and multiple marine species. The best time to visit the park is during the dry season between December and March which is peak time for walking the rainforest trails and enjoying the many beaches. Although the weather is generally warm and sunny all year round, the tropical wet season comes around from May to November. The most popular holiday time is Holy Week which varies from March to April, or during the Christian Easter week.
Manuel Antonio is the smallest national park in the country with just 1,700 acres of land but more than 130,000 acres of water. Despite its size, it is one of the most visited parks in Costa Rica and was rated in 2011 by Forbes as one of the twelve most beautiful national parks in the world. Almost everybody who tours to Costa Rica includes Manuel Antonio on their list of places to visit for its beautiful beaches and amazing wildlife.
The Manuel Antonio National Park was established in 1972 when it was decided to preserve the natural beauty and immense biodiversity to be found in this area. Because of the huge variety of nature and wildlife present in the park, it is considered to be one of the most biologically diverse regions in the world. White sandy beaches, a waterfall, and several hiking trails draw thousands of visitors who come to view the plethora of animals protected in Costa Rica's National Park.